I thought I'd think through my November plans, and writing them down helps. I planned to upload the video I shot during the weekend today, but foolish me didn't notice the battery was flat and I left the charger at home. So I'll have to upload it tomorrow. I plan to make a couple of more videos during November. I'm hoping for one a week, but that's being optimistic.
This month I'll try to keep up with daily posts, but I might skip one or two during the weekend. I've been thinking of a subject, but I haven't been able to figure one out yet. I'll continue to blog about my path and thoughts though. I'm doing a special post on my goals when I upload the video tomorrow, and one on the costumes I'm making.
I'm also planning a special post on the transition of my path through the years. Lately, the role of Völve has started to seem interesting, so I will be researching this and of course research seið further. Unfortunately, I have no seiðkone or Völve nearby to put my questions to. If you are, or if you know of one, please let me know.
I'm also focusing a lot on the moon and its phases at the moment. That's mainly because I feel like I've been out of sync with it the last year or so. So you'll probably be seeing a lot more moon pictures on this blog in the future. If you happen not to like them, please ignore them and move on.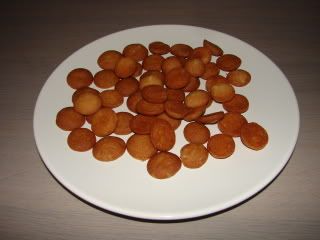 I'm doing my Alvablót on the evening of the 6th. I decided to move it since I don't have to consider a gathering. I had to cancel the gathering yesterday because nobody's coming. My daughter has shown an interest in participating, so I'm adapting the ritual to suit her.
I've described what I'm planning on doing to her, and she seemed to agree. We've also baked Honey Cookies for the Alfr together, which she helped me taste 🙂 and last night she 'helped' light the pumpkin lanterns outside.
As for the Alvablót, I'm planning to post a report from it, and also do a YouTube video about it, so that other Pagans and Heathens can see what I chose to do.
On another note, I've joined up with Blog Blast for Peace, so keep a lookout for that on the 4th of November. If you have a blog, join up, and help promote peace. Anyway, I hope you're having a wonderful Holiday Season 🙂